Welcome to Kettle Moraine Veterinary Clinic
Your Veterinarian in Plymouth WI
Call us at (920)-892-4225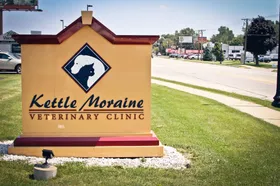 Kettle Moraine Veterinary Clinic is a locally owned full service veterinary medical facility, servicing the Plymouth area for more than 40 years. Our professional and courteous staff seek to provide the best possible medical, surgical and dental care for our highly valued patients.
We are committed to promoting responsible pet ownership, preventative health care, and health-related educational opportunities for our clients. We strive to offer excellence in veterinary care to Plymouth, WI and the surrounding areas. We look forward to servicing you and our community for many more years.
Our Mission
Kettle Moraine Veterinary Clinic is dedicated to the health, safety, and happiness of the pets in our care. We strive to offer high quality comprehensive veterinary medical, dental, surgical care and client education. We promote regular preventative care ensuring the optimum chance for a lifetime of good health. Of equal importance is the compassionate and gentle care offered each pet that you entrust to us.
We are excited to announce that Dr. Jen Niemczyk will be joining our team starting August 1st, 2023!
Dr. Niemczyk is a 2003 graduate of the University of Minnesota - CVM. She moved to the Holylands after graduation and lives in an old farmhouse with her husband, daughter and son. She shares her home with 2 rescue dogs: Poppie and Mudpie, 3 cats: Jake, Halo and Bombur Binx, and five Polish chickens (so far). SHe has had a green-cheeked conure, guinea pigs, a headgehog, and praying mantises. She enjoys reading, crafting, baking, gardening, walking trails and playing board games. She is active in 4-H. She has been working with small mammal, avian and reptiles as well as dog and cat patients for 20 years and is excited to meet new people and animals in the Plymouth area.

Dr. Rhonda Maas, DVM
Dr. Patricia Connors-Scherer, DVM
Dr. Stephanie Crispin, DVM
Dr. Destiny Glasson, DVM
Dr. Taylor Richards, DVM
Dr. Jen Niemczyk, DVM
Kettle Moraine Veterinary Clinic
(920)-892-4225
2712 Eastern Avenue
Plymouth, WI 53073
Email: [email protected]