Welcome to Kettle Moraine Veterinary Clinic
Your Veterinarian in Plymouth WI
Call us at (920)-892-4225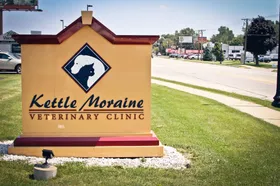 Kettle Moraine Veterinary Clinic is a locally owned full service veterinary medical facility, servicing the Plymouth area for more than 40 years. Our professional and courteous staff seek to provide the best possible medical, surgical and dental care for our highly valued patients.
We are committed to promoting responsible pet ownership, preventative health care, and health-related educational opportunities for our clients. We strive to offer excellence in veterinary care to Plymouth, WI and the surrounding areas. We look forward to servicing you and our community for many more years.
Our Mission
Kettle Moraine Veterinary Clinic is dedicated to the health, safety, and happiness of the pets in our care. We strive to offer high quality comprehensive veterinary medical, dental, surgical care and client education. We promote regular preventative care ensuring the optimum chance for a lifetime of good health. Of equal importance is the compassionate and gentle care offered each pet that you entrust to us.
Dr. Rhonda Maas, DVM
Dr. Greg Bohn, DVM
Dr. Patricia Connors-Scherer, DVM
Dr. Stephanie Crispin, DVM
Dr. Destiny Wedig, DVM
Dr. Taylor Knuth, DVM
Kettle Moraine Veterinary Clinic
(920)-892-4225
2712 Eastern Avenue
Plymouth, WI 53073
Email: [email protected]